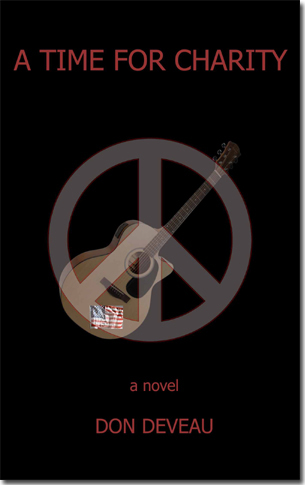 A TIME FOR CHARITY is a coming-of-age story set in rural New England, against a turbulent background in which the nation itself is also coming of age in many respects. In the summer of 1969, the war in Vietnam loomed large above an entire generation, and the threat of the draft held most young men hostage. Anti-war protests threatened to tear the country apart.

David and Andy are brothers, ordinary teenagers in a sleepy New England town. But they soon find their ordinary lives changed forever. Not wanting to end up as another statistic of the war like his best friend, David chooses Canada instead. On the road he meets Charity, another runaway but from a different kind of nightmare – a past that includes a dark secret that has nearly destroyed her.

Meanwhile, younger brother Andy has discovered the brutally murdered body of a local high school beauty (who had dark secrets of her own). He and his best friend are convinced they will be considered as the prime suspects in the girl's murder. When they take to the road in a stolen car, they find themselves at the center of a police manhunt.

Fate has it that the two brothers eventually find that their separate roads lead them back together, where they are faced with the greatest challenge of their lives. Questioning their values and beliefs, they must ultimately decide the true meanings of concepts like family, loyalty, friendship, and even the cost of freedom. Sex, drugs, rock 'n' roll, war, murder and mayhem all provide elements that in some way define the lives of the reluctant heroes. But the heart of their story lies in how they come to define themselves and discover what is really important, despite the turmoil that surrounds them.

---